By David Bankston,
True Elements Co-Founder and Chief Technology & Innovation Officer
Climate Change Impacts are Intensifying – Primarily through the Water Cycle
Climate change and its increasingly severe impacts are in the news almost every day. Floods, droughts, and storms dominate the news cycle across the globe. One consistency is that water is a large part of the climate change story. According to the UN (United Nations), 90% of climate impacts are experienced through water.
When it comes to how businesses and governments are responding to climate change, attention has primarily been on Greenhouse gas (GHG) emissions. Of course, it is critical to reduce GHG emissions, but organizations are not seeing the full picture. Most have not yet begun to determine how they will operate in the coming decades' vastly different climate reality versus how they have operated in the past. Many do not yet fully understand that the freshwater resources on which they rely are becoming scarcer and more stressed due to increasing consumption, pollution, and severe weather impacts. In short, the realization that the climate crisis is really a water crisis has not yet sunk in. As Emilio Tenuta, Chief Sustainability Officer at Ecolab said, water remains the "forgotten piece of the climate puzzle".
Companies and Government Organizations are Vulnerable to Water Risk
Water is a key component that runs throughout every company's value chain – often unrealized. Water is needed in operations and manufacturing (for energy production and other functions), supply chains (whether through growers or supply chain partner manufacturing requirements), and or materials. Water is also critical to a city or community's infrastructure, security, economy and often, recreational opportunities.
As water resources become scarcer and more fragile, watershed stakeholders are becoming more engaged in watershed protection. As a result, companies are encountering reputational and license to operate risks and city leaders face vocal constituents concerned about equitable sharing of water resources. Increasing climate related investor scrutiny to ensure long term company viability and pending expanded regulations from the SEC (Securities & Exchange Commission) and other agencies are making deep, clear understanding of water challenges and resources essential for a sustainable, resilient business future.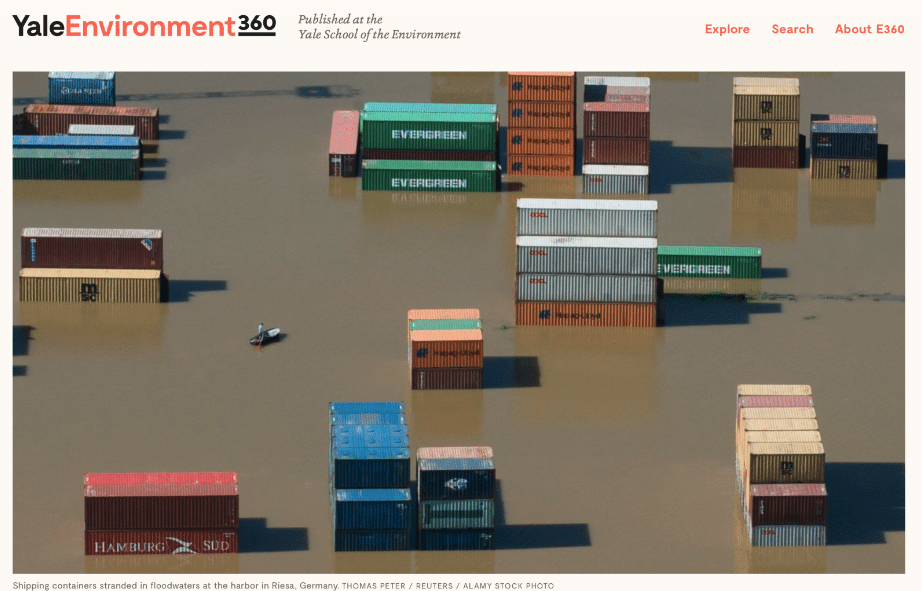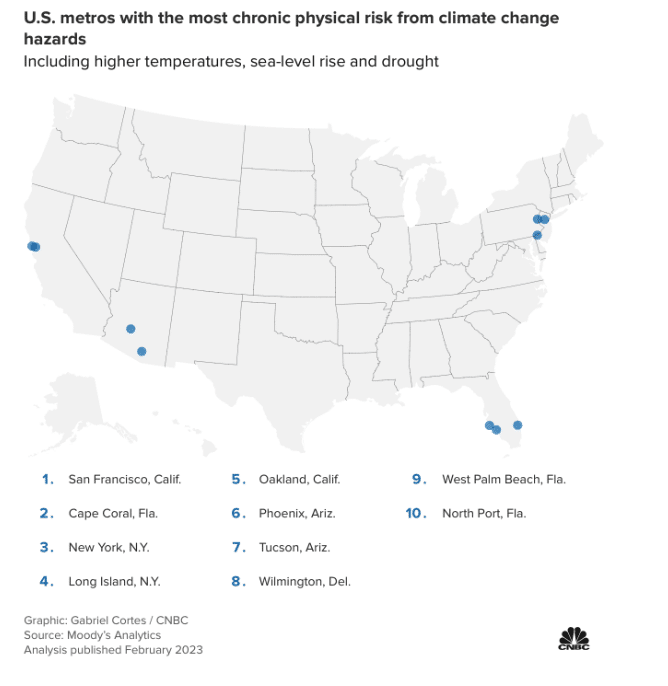 Organizations should Act Now to Reduce Water Risk. Climate Change Will Not Wait.
Addressing water challenges intelligently starts with better understanding of water's inherent complexity and the many factors (pollution sources, aquifer locations, flood zones, etc.) that impact local watersheds where your community, company, or supply chain partners operate. The earlier decision makers can understand and assess where they are exposed to water risks and where there are opportunities for more efficient use of water resources, water reuse, and water related partnerships, the better.
True Elements Provides the Insights Leaders Need to Create a Water Resilient Future
True Elements applies a sophisticated, patent pending scientific and AI (Artificial Intelligence) lens to multiple layers of disparate watershed data to produce deeper, clearer, more holistic insights into watershed dynamics. We turn those insights into clear visualizations, scores, and comprehensive data sets for more reliable analysis, forecasting and sound decision making.
To help decision makers understand factors impacting water quality and how to prioritize action, True Elements' data sets incorporate multiple data reports from public or private sources in one convenient platform. "When it comes to understanding water issues impacting communities and business value chains, we have done the time consuming, complex work most companies don't have time, resources, or expertise to do." says David Bankston, True Elements' Chief Technology & Innovation Officer. "Through our advanced scientific and AI capabilities, True Elements has created the data sets leaders need to clearly understand their water quality challenges so they can make the best, most informed decisions possible to ensure a sustainable water future for their communities and businesses."
Screenshot examples for illustrative purposes below.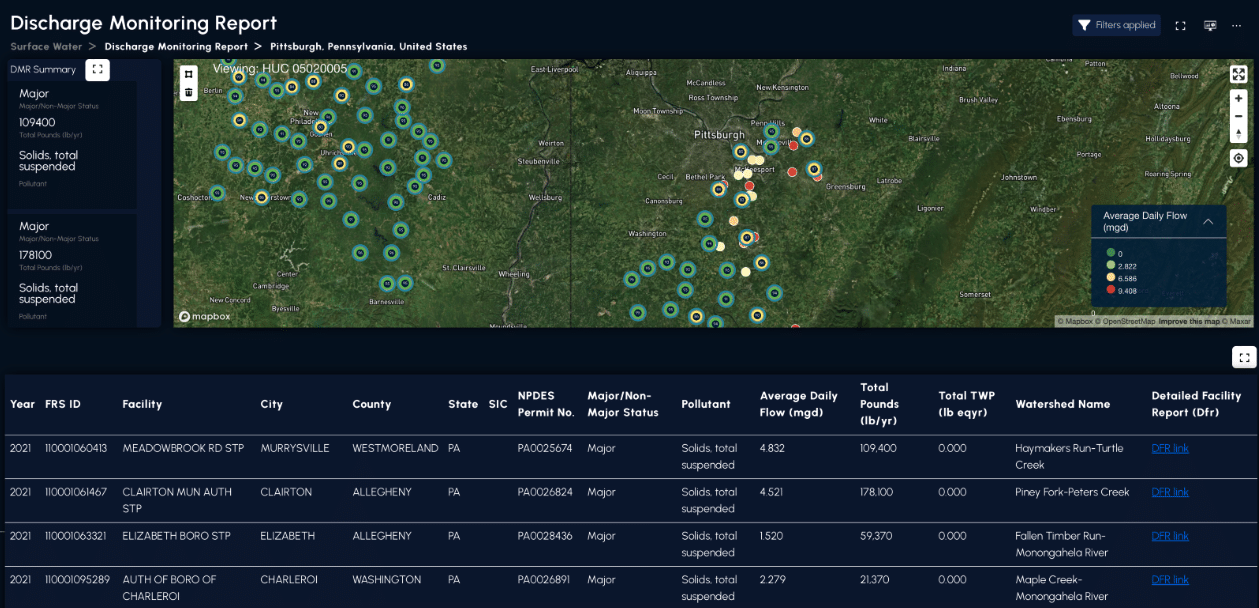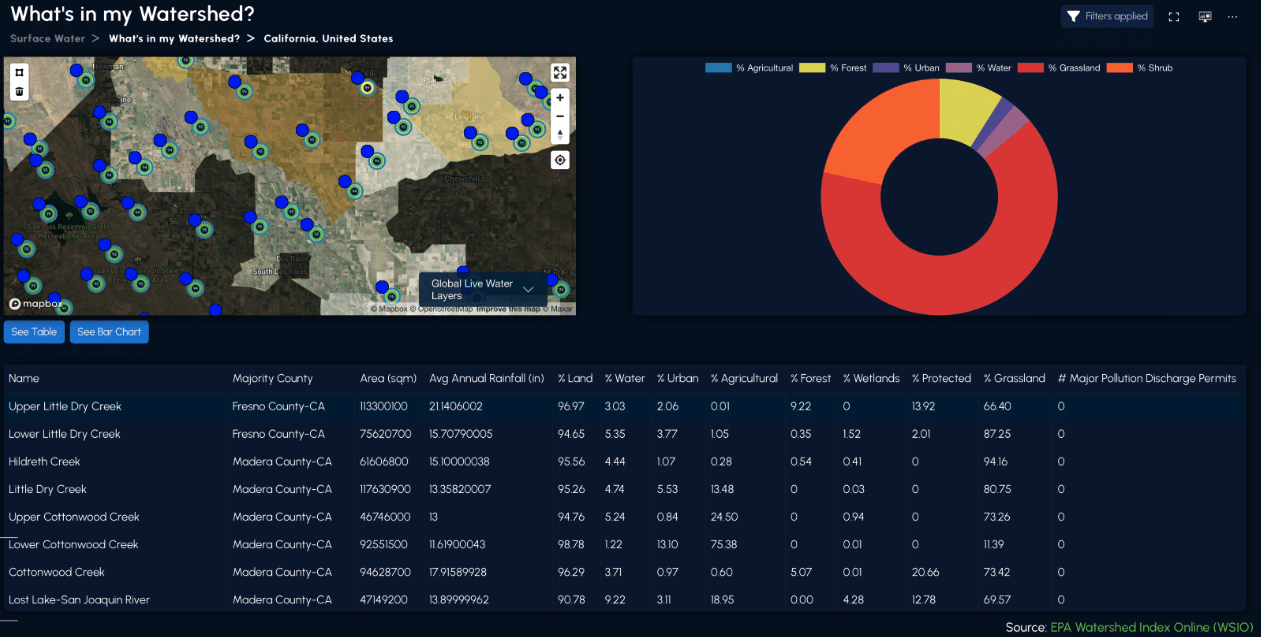 True Elements Makes Data Available in Analytics Hub and listed on Google Cloud Marketplace
"We are excited to partner with True Elements to provide customers with access to surface and drinking water data," said Dai Vu, Managing Director, Cloud Marketplace & ISV GTM Programs, Google Cloud. "With Analytics Hub, customers can access True Elements' data to enrich their first-party data assets and accelerate time to value and scalability with real time insights, leveraging Google Cloud's analytics and AI offerings."
Prepare Now for a Secure, Resilient Water Future
Ensure your company or community doesn't miss perhaps the most critical piece of the climate puzzle – water. Customers interested in these datasets can request a custom quote on or more information by visiting our listing on Google Cloud Marketplace.