IUPAC Name: 3-(3,5-dichlorophenyl)-5-ethenyl-5-methyl-1,3-oxazolidine-2,4-dione
Source: A restricted-use pesticide, it was formerly used as a fungicide on plants and vegetables.
Summary: Vinclozolin is an organic compound that is a restricted-use fungicide. Prior to the restricted-use relegation in 2004 it was used as a fungicide on vegetables and plants. It is soluble in water up to 2.6 mg/L at 20 C and has a density of 1.51 g/mL. Bioaccumulation in organisms is expected to be moderate to high. Hydrolysis and biodegradation are expected to be major methods of natural removal in soil and water.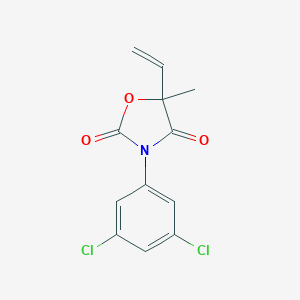 GHS Hazard Statement: H317, H351, H360, H360FD, H373, H411, GHS07, GHS08, GHS09