IUPAC Name: N-(3,4-dichlorophenyl)propanamide
Source: Used as an herbicide.
Summary: Propanil is an anilide compound used an herbicide. It has a solubility in water of 152 mg/L at 25 C and a density of 1.25 g/mL at 25 C. Upon decomposition produces toxic fumes of nitrogen oxides and hydrogen chloride gas. Koc values in the range of 141-800 predict a high to moderate mobility within soil, and biodegradation may play a big role in removal. Propanil is not to be used in residential areas and near public buildings.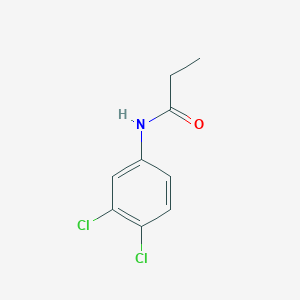 GHS Hazard Statement: H302, H319, H332, H371, H400, GHS07, GHs08, GHS09