IUPAC Name: (3R,4S,5S,6R,7R,9R,11R,12R,13S,14R)-6-[(2S,3R,4S,6R)-4-(dimethylamino)-3-hydroxy-6-methyloxan-2-yl]oxy-14-ethyl-7,12,13-trihydroxy-4-[(2R,4R,5S,6S)-5-hydroxy-4-methoxy-4,6-dimethyloxan-2-yl]oxy-3,5,7,9,11,13-hexamethyl-oxacyclotetradecane-2,10-dione
Source: Used in medicines as a treatment against bacterial infections.
Summary: Erythromycin is an antibiotic produced by the streptomyces erythreus bacteria (found naturally in soil). It is soluble in water up to 4.2 mg/L at 25 C and has an acid dissociation constant of pKa = 8.9. It is used as a treatment against bacterial infections. The compound works to inhibit protein synthesis. Erythromycin is also used in medicines used to combat other health issues such as whooping cough and chlamydia. A Koc value of 570 indicates low mobility within soil.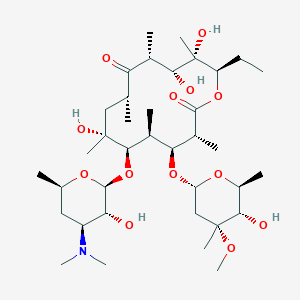 GHS Hazard Statement: H317, H319, H334, GHS07, GHS08