IUPAC Name: Ethyl carbamate
Source: Used in the production of cosmetics, resins, and pesticides.
Summary: Urethane is commonly used in the production of resins, pesticides, cosmetics, and pharmaceuticals. It is soluble in water up to 480,000 mg/L at 15 C and has a density of 0.9813 g/mL. It is classified by the EPA as a Hazardous Air Pollutant (HAPs). A Koc value of 20 predicts very high mobility within soil. Biodegradtation is expected to be a major fate process but is dependent on initial concentrations.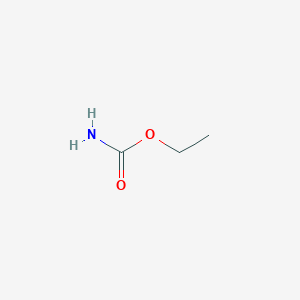 GHS Hazard Statement: H302, H312, H336, H340, H341, H350, H351, H361, H373, GHS07, GHS08