IUPAC Name: (4aR,5aS,8aR,13aS,15aS,15bR)-4a,5,5a,7,8,13a,15,15a,15b,16-decahydro-2H-4,6-methanoindolo[3,2,1-ij]oxepino[2,3,4-de]pyrrolo[2,3-h]quinolin-14-one
Source: Used as a rodenticide to control animal and bird populations.
Summary: Strychnine is a rodenticide used to control animal and rodent populations. Is soluble in water up to 160 mg/L at 25 C. It has an acid dissociation of pKa = 8.26 at 25 C. Decomposition produces carbon oxides and nitrogen oxides which are toxic to inhale. It is also toxic to ingest and has been the poison source of many tales and horror stories.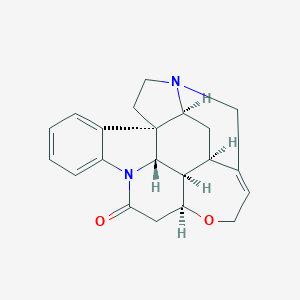 GHS Hazard Statement: H300, H310, H370, H372, H400, H410, GHS06, GHS08, GHS09