IUPAC Name: 2-chloro-1-(3-ethoxy-4-nitrophenoxy)-4-(trifluoromethyl)benzene
Source: Used as an herbicide on a wide range of crops.
Summary: Oxyfluorfen is an aromatic ether used as an herbicide. It is soluble in water up to 0.116 mg/L at 25 C and has a density of 1.49 g/L. Upon decomposition it produces gases of hydrogen chloride, hydrogen fluoride, and nitrogen oxides. A Koc value of 8900 indicates that the compound will be immobile within soil. Biodegradation is expected to be a major fate process in water and soil. Bioaccumulation is expected to be high.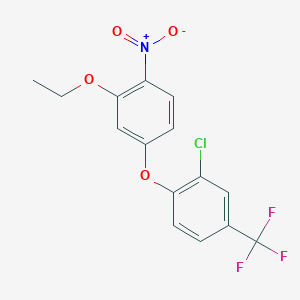 GHS Hazard Statement: H400, H410, GHS09