IUPAC Name: 2-bromo-2-chloroacetic acid
Source: Used in cosmetics and paint additives as well as some construction applications, primary source is as a disinfection byproduct for water treatment (chlorination).
Summary: Bromochloroacetic acid is a member of the haloacetic acids. It is formed as a byproduct of water treatment (chlorination) and may contaminate drinking water. The compound has a solubility in water of 250,000 mg/L at 25 C and has a density of 1.9848 g/mL at 31 C. Decomposition produces carbon monoxide, carbon dioxide, hydrogen chloride gas, and hydrogen bromide gas. It has a pKa of 1.40. Has applications in cosmetics as an antistatic. Industrial applications include paint additives.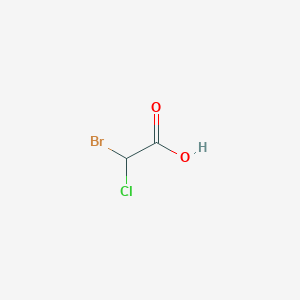 GHS Hazard Statement: H314, GHS05